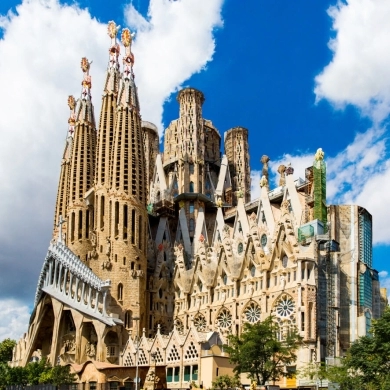 Sagrada Família
The Expiatory Temple of the Sagrada Familia, also known as the Sagrada Familia, is a Catholic basilica designed by Antoni Gaudí. Construction began in 1882 and is still ongoing. It is widely considered Gaudí's masterpiece and a standout example of Catalan modernist architecture. The Sagrada Familia is one of the most visited sites in Spain and the second most visited church in Europe after St. Peter's Basilica in the Vatican.
Admission: 
People with a disability of 65% or more are entitled to free admission with an assistant. Tickets can now be purchased online with a "disabled" rate for all entrance options to the Sagrada Familia, including single entry, audio guide, and audio guide + tours. The only part of the Sagrada Familia that is not accessible to wheelchair users is the towers of the basilica.
Accessibility:
The Sagrada Familia is easily accessible by several bus lines and the tourist bus, and by Metro Line 2 at the "Sagrada Familia" stop, which has an elevator leading to Calle Marina in front of the cathedral.
Address and contact: 

C/ de Mallorca, 401, 08013 Barcelona
Telephone: (+34) 93080414