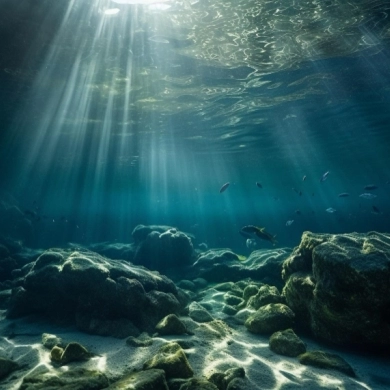 Cenote Azul
The Blue Cenote is a natural jewel located about 22 kilometers south of Playa del Carmen, in the Riviera Maya. This cenote is a popular choice among visitors due to its stunning beauty and easy access.
To get to the Blue Cenote from Playa del Carmen, you can hire a taxi service or private, adapted transport. Make sure to specify that you need a wheelchair-accessible vehicle when making the reservation. The journey takes approximately 30-40 minutes, depending on traffic.
Another option is the colectivo, a type of local minibus, which can also take visitors to the cenotes. However, these may not be equipped for wheelchairs, so we recommend checking in advance.
The colectivos heading towards Tulum depart from in front of the Chedraui car park, on Calle 1 Sur corner with Avenida 45 Norte, near Avenida Juárez. Approximately 35 pesos. For the return journey, cross the road and wait for a colectivo to stop.
From Tulum
By car: follow Highway 307 to Playa del Carmen for about 30 min.
By public transport: a colectivo costs 40 pesos
Price of the visit
The entrance fee to the Blue Cenote is generally affordable, around 120-150 Mexican pesos, although prices can vary. This entrance fee includes access to the cenote and the picnic area.
Accessibility at the Blue Cenote has improved in recent years. Although the terrain can be uneven in some places, walkways and ramps have been installed to facilitate access to the main areas. However, due to the natural features of the place, there may be areas that are not fully accessible.
While swimming in the cenote can present challenges for people in wheelchairs, assistance services are available. We suggest that you contact the cenote in advance to discuss your specific needs and to ensure that they can provide the appropriate assistance.
We recommend wearing biodegradable sunscreen, as regular sunscreens can be harmful to the cenote's ecosystem. It's also useful to bring a hat, water, and snacks.
Finally, we suggest that you plan your visit on weekdays if possible, as the cenote can be busier on weekends.
Visiting the Blue Cenote is a wonderful and refreshing experience. With careful planning, it can be an exciting and accessible trip for everyone.
Address and contact:
CALETA CHAC MALAL, Chacalal, Mexico, 77737
Phone: (+52) 984 151 9925
Email: contacto@cenoteazulrivieramaya.com
Web: http://www.cenoteazulrivieramaya.com/