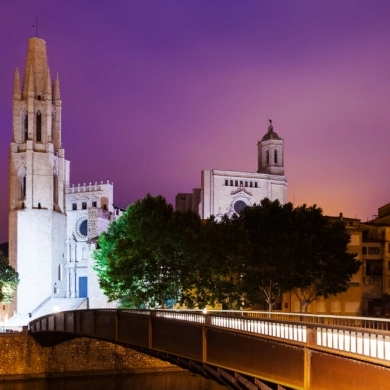 Cathedral of Girona
The cathedral and its museum in Girona are generally accessible to people with reduced mobility, but there are some areas that may be difficult to access due to steps or other barriers. The main entrance to the cathedral is accessible by ramp, but you must go around the cathedral and enter through the Plaza de los Apóstoles. This entrance has two steps higher than 5 cm that may be difficult to navigate. There is an alternative entrance for wheelchair users through the side entrance of the cathedral, which can be accessed by calling +34 972 42 71 89 upon arrival.
Most of the visitable areas within the cathedral and its museum are accessible, including the Museum-Treasure and the interior of the cathedral. However, the Conventual Chapel, the cloister, the Tinell room, and the chapel of La Esperança are not accessible due to steps higher than 5 cm. There is no adapted public service counter or WC within the cathedral. Museum staff is available to assist visitors at all times.
There is a reduced entrance fee of 1.20 meters for people with physical disabilities and their accompanying person. 
The cathedral is open from Monday to Saturday from 10:00 to 18:00, and on Sundays and holidays from 12:00 to 18:00. It is closed on December 25, January 1, and Good Friday.
The cathedral is located in the upper part of the old town and is surrounded by cobbled and irregular streets, as well as steeply sloping streets. 
The nearest free reserved parking for people with reduced mobility is located in Els Apòstols square, which is 15 meters away and has good accessibility to the cathedral. 
The nearest public transportation stop is L7 Plaça de Sant Domènec, which is 180 meters away but is not accessible. The route from this stop to the cathedral involves cobbled and sloping streets. There are no adapted stops nearby. 
The nearest taxi stop is located at Plaça de Els Apòstols, which is 15 meters away from the cathedral.