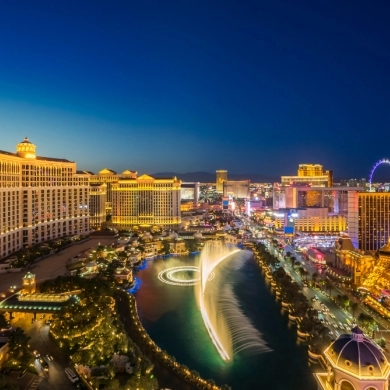 Bellagio Hotel & Casino
This hotel is an iconic and luxurious resort and casino located in the heart of the Las Vegas Strip. It is known for its elegance, high-quality dining options, luxurious rooms and suites, and its famous dancing fountains. Here are some attractions and amenities you might enjoy during your visit to the Bellagio:
Bellagio Fountains: The Bellagio Fountains are one of the most iconic attractions in Las Vegas. This show of dancing waters and synchronized lights set to music is free and takes place every 30 minutes during the day and every 15 minutes at night.
Bellagio Conservatory & Botanical Gardens: The Bellagio Conservatory and Botanical Garden is a 14,000 square foot (1,300 square meters) space that features seasonal displays of flowers and plants, as well as sculptures and art in a spectacular setting.
Bellagio Gallery of Fine Art: The Bellagio Gallery of Fine Art is an exhibition space that showcases artwork from world-renowned artists and temporary exhibits.
O by Cirque du Soleil: "O" is an aquatic show by Cirque du Soleil that takes place in the Bellagio's "O" Theater. This show features stunning acrobatics, synchronized swimming, and amazing visual effects.
Restaurants: The Bellagio is home to a wide variety of high-quality restaurants, ranging from casual options to fine dining, including Le Cirque, Picasso, Lago, Spago, and Prime Steakhouse.
Bellagio Spa: The Bellagio Spa offers a wide range of spa treatments and services, such as massages, facials, body wraps, and water therapies.
Bellagio Casino: The Bellagio Casino is an elegant and exciting venue for gambling, featuring a wide selection of slot machines, table games, poker, and sports betting.
Shopping: The shops at the Bellagio offer an array of luxury boutiques and designer stores to satisfy shopping enthusiasts.
Pool: The Bellagio pool area features five pools, four hot tubs, and private cabanas in a lush setting with gardens and fountains.
All of the activities just described are accessible for people with limited mobility, and the hotel also offers adapted rooms and amenities to ensure a comfortable stay for all guests.