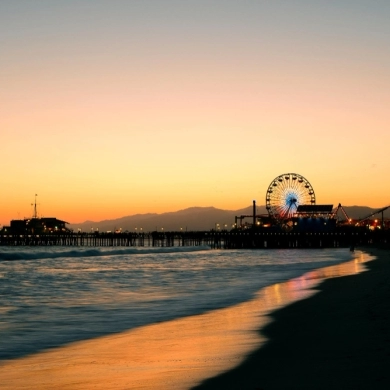 Santa Monica Pier
The Santa Monica Pier is one of the most popular tourist attractions in Los Angeles, due to its seaside location. Its various attractions and activities make it a great place to visit almost any time of the year, and it is wheelchair accessible.
At the pier, you can:
Enjoy the beach: The Santa Monica Pier is located next to the beach, making it an ideal place to relax and enjoy the sun and sea. There are areas for sunbathing, water sports, and beach walks.
Ride the Ferris wheel: The Santa Monica Pier Ferris wheel is one of the most popular attractions on the pier. It is the world's largest solar-powered Ferris wheel, offering spectacular views of the beach and ocean. The Ferris wheel is wheelchair accessible.
Ride the carousel: The Santa Monica Pier carousel is a classic and fun attraction for all ages. It is an old-fashioned carousel with wooden horses and other animals. The carousel is wheelchair accessible.
Eat and drink: The pier has numerous dining options, from fast-food stands to ocean view restaurants. There are choices for all tastes and budgets.
Shop for souvenirs: Many shops on the pier sell souvenirs, clothing, jewelry, and other items. There are options for all tastes and budgets.
Watch performances: The pier features a stage where music shows and other live events take place. There are also street performers on the pier, such as musicians and jugglers.
Admission:
Admission to the pier is free, and there are several entrances, all with ramps or elevators for wheelchair access.
Access to attractions: Most of the pier's attractions, such as the Ferris wheel and carousel, are wheelchair accessible. Ramps and elevators provide access to all areas of the pier.
Restrooms:
The pier has wheelchair-accessible restrooms and rest stations located at various points along the pier.
Accessibility:
There are several options for people with mobility issues to get to the Santa Monica Pier:
Bus: Routes 4, 20, 720, and Rapid 10 have stops in downtown Santa Monica.
Another bus option is the Santa Monica Transit Center. From there, walk a few minutes to Colorado Street and 5th Avenue, where you can take the Big Blue Bus Route 9 to the Santa Monica Pier. (Accessible)
Taxi: With a taxi, you can easily reach the Santa Monica Pier from any part of the city.
Private car: If you are driving your vehicle, remember that there is disabled parking available in various locations near the Santa Monica Pier. However, we recommend arriving early, as parking can fill up quickly, especially on weekends.
Address and contact information:
200 Santa Monica Pier, Santa Monica, CA 90401, United States
Phone: +1 310-458-8901
Website: https://santamonicapier.org/