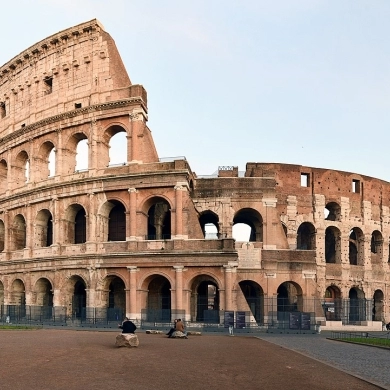 Colosseum
The first thing we want to highlight is that this world-renowned amphitheater is 100% accessible for people with reduced mobility.
It was built in the 1st century under the mandate of Emperor Vespasian, it took between 8 and 10 years to complete the works and it was the largest in the Roman Empire and had a capacity of up to 65,000 people, as an anecdote to say that its inauguration lasted 100 days and It is where all kinds of shows were held, but the one we know the most are the gladiator fights.
After more than 2000 years the structure, of course, is damaged due to several earthquakes and looting suffered for many years in which its stones were used for the construction of nearby buildings, but today it remains an icon of the Imperial Rome and one of the most visited monuments in the world.
In 1980 it was admitted to the list of World Heritage Sites by UNESCO and in 2007 it was recognized as one of the 7 new wonders of the modern world.
Regarding accessibility, we can confirm that it is an accessible monument for people in wheelchairs and it is something that you cannot miss if you visit Rome.
People with a disability have free admission (Them and a companion) in addition to not having to queue for access (there is an fast track for people with disabilities.
It is accessed through a ramp with a slight slope and once inside the route is perfectly accessible.
You do have to be a little careful with the pavement, which is sometimes uneven and there may be a small problem with the front wheels, although in general there is no problem.
You can take a circular route that borders the entire interior of the Colosseum from floor 0 and from floor 3.
To get to the top floor there is a panoramic elevator for the exclusive use of people with disabilities, which is very spacious and can fit several wheelchairs.
On the 3rd floor there is a museum where we can see several old pieces and it is also fully accessible.
Entry:   As we have mentioned before, the entrance for people with disabilities or reduced mobility is free and they have quick access, both for the disabled person and for their companion. (They also have reduced or free admission for children, the elderly, students and teachers and the first Sunday of the month is free for everyone)
Its hours are from 09:00 in the morning to 19:15 in the afternoon from Monday to Sunday.
Toilets:  On the ground floor, next to the female toilet, there is a fully adapted toilet with grab bars on the toilet, transfer space, wall-hung sink and turning radius inside.
Accessibility:
Metro: Colosseo metro station on line B is only a 3-minute walk "roll" away and if you took the metro from Termini station, the journey takes only 5 minutes. Unfortunately, this is one of the 3 stops on metro line B that is not accessible for PRM, so we do not recommend it.
Bus: There are many buses that will leave you less than two minutes from the Colosseum, leaving Termini the journey takes about 15 minutes (Depending on traffic) Remember that most buses in Rome are accessible, so you will not have a problem be able to get on a wheelchair.
Numbers: 117, 175, 186, 271, 53, 571, 571, 75, 80, 810, 85, 87, 204, 81, 40, 60…
Address and contact:

Piazza del Colosseo, 1, 00184 Rome RM, Italy
Telephone: (+39) 639967700
Email: info@il-colosseo.it