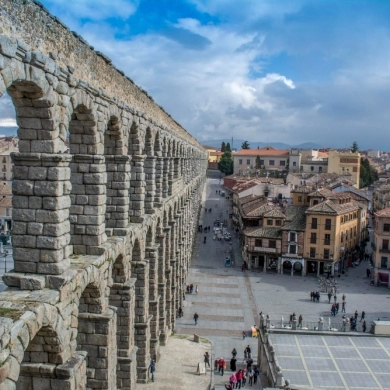 Aqueduct of Segovia
The Segovia Aqueduct is a remarkable Roman engineering feat located in Segovia, Spain. It was built in the 2nd century AD and still stands today as one of the best-preserved Roman monuments in the Iberian Peninsula. 
The aqueduct is over 15 kilometers long and was used to bring water from the Sierra de Guadarrama to Segovia.
The most iconic point of the aqueduct is in the Plaza del Azoguejo, a square that showcases the monument's impressive height of over 28 meters. The square is accessible, with smooth tiles covering most of it, but some areas have irregular paving.
C/ Fernán García is a pedestrianized street along one side of the aqueduct with steps 15 cm high, and C/ Teodosio el Grande, is a pedestrianized street on the other side of the aqueduct with an incline that varies between 14% and 17.6%. The pavement of this street is cobbled and irregular, so caution is recommended for those in wheelchairs. There are stone benches available for rest.
Entrance:
Entrance to the square is completely free and can be accessed 24 hours a day.
Toilets:
In the tourist office they have an adapted bathroom, and some restaurants in the square also have accessible bathrooms.
Accessibility:
Private vehicle: To get to the Azoguejo square, the best option is to arrive by private vehicle, since a few meters from the square is the "Acueducto Oriental" car park, which has 18 spaces reserved for people with reduced mobility and, of course, its entrances are also adapted.
Bus: There are several lines that pass near the square, the closest one will leave us about 350 meters from the square... The lines that stop near the square are: M5, M6, M8, REBOLLO and VAC-246.
Train: The train stop is more than 2.5 km away from the square, so we do not recommend it.
Address and Contact:
Azoguejo Square 40001 Segovia
Telephone: 921 466 720 Fax: 921 466 724
Email: segovia.accesible@turismodesegovia.com
Web: www.turismodesegovia.com