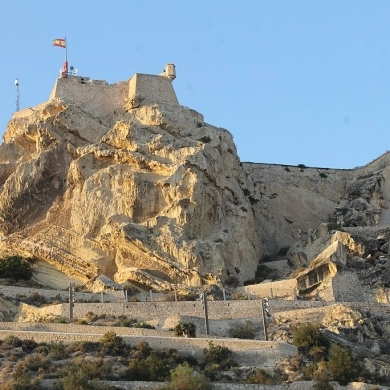 Santa Bárbara Castle
Santa Bárbara's Castel
To access the Castle, you can take the elevator located on the beach of Postiguet or on Avenida Juan Bautista Lafora. Alternatively, you can arrive by car via Vázquez de Mella. It's important to note that the last elevator goes down at 19:40.
The parking lot has a free space for disabled parking. Keep in mind that this is a fortress from the Middle Ages, which means it has stone and old, irregular slabs.
Once parked, you can go up a slope to reach the main square, which is still accessible. In the Plaza de Armas, you will find two arches, the ruins of the Ermita Santa Barbara, the Calabozo, and the Baluarte de la Reina y del Rey. You can access the Cuartel de la Tropa through a ramp and see the Hall of Felipe II with its heraldic coats of arms. From here, we can take the elevator to go up to the castle.
Castel opening hours:

Winter (October 1 to March 31): from 10:00 to 20:00h. Every day.
April, May, June and September from 10:00 to 22:00h. Every day.
July and August from 10:00 am to 10:00 pm. Days of performances Castle open until 23,45 hrs.
Musa Museum opening hours:

Every day, from 10:00 to 14:30 and from 16:00 to 19:00. Telephone: 965 152 969. The exhibition rooms close at 19:00 pm.
The Fortress will be closed on December 24, 25 and 31, January 1 and 6.
Acces:  

Access to the elevators: Avda. Juan Bautista Labora s/n. 03002.
Access by road. Free of charge. Velázquez de Mella St., s/n. 03013.
Lift hours : from 10:00 to 19:45 h., last elevator up: 19:20 h.; last elevator down: 19:40 h.
Access by road. Free of charge. Velázquez de Mella Street, s/n. second floor. 
We can continue the visit in the MUSA museum, a museum that collects important moments of the history of Alicante from the Bronze Age to the present.