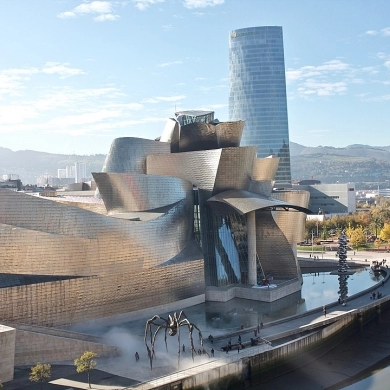 Guggenheim Museum Bilbao
Defined as the best building of the second half of the twentieth century, the Guggenheim Museum Bilbao has completely transformed the city, placing it in the world and radically changing its image.
It opened in 1997, designed by the American architect Frank Gehry, and its architecture symbolizes a ship anchored on the banks of the Nervión. The Guggenheim Museum Bilbao is surrounded by promenades, green areas and squares of recent urbanization, where artistic works by artists such as Louise Bourgeois, Eduardo Chillida, Yves Klein, Jeff Koons and Fujiko Nakaya coexist.
The area surrounding the Guggenheim Museum Bilbao has become an attractive meeting point where visitors can enjoy art, have a drink, listen to live music, play sports or play in a children's play area with avant-garde swings and an interactive fountain that is a magnet for the youngest visitors.
Since its opening in 1997, the Guggenheim Museum Bilbao's acquisitions have focused on works from the mid-20th century to the present day, complementing the holdings of the Solomon R. Guggenheim Foundation while forging a unique identity for itself.
In addition to exhibition spaces, the Guggenheim Museum Bilbao has a "Zero Espazioa" visitor orientation room, a 300-seat auditorium, a shop-bookstore, a café, a bistro-style restaurant and the Michelin-starred "Nerua" gastronomic restaurant.
Accessibility: The Museum does not have its own parking service for visitors; however, it is easily accessible and can be reached by streetcar (Guggenheim stop), bus lines: Lines 01, 10, 13, 18 and A7 at the "Museo 1 / Henao" stop or by Metro (Moyua stop, "Ercilla-Guggenheim" exit). If you choose to travel by private vehicle, there are municipal parking spaces in the area. 
To access the interior of the Museum there are two accessible entrances:
▪  Main façade: wheelchair access by elevator (entrance through the cafeteria).
▪  Facade facing the estuary: wheelchair access via the ramp.
▪  It also has the entrance by the large staircase on the main facade.
Inside:
-  Walk-through over three floors. 
-  Free of physical barriers. 
-  With wide aisles. Non-slip floor.
-  Easy to walk around. With 2 elevators: one with capacity for 1 person in wheelchair and another group elevator, very spacious, with capacity for 20 people.
-  2 adapted toilets per floor:  they have 2 bars, one fixed and one folding, and enough space to turn inside. 
-  The door opens to the outside.
More info   https://cms.guggenheim-bilbao.eus/uploads/2019/11/Accesibilidad-ES.pdf