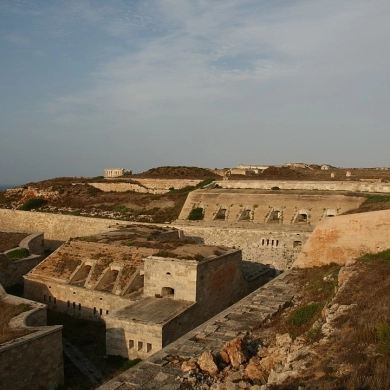 Mola Fortress
Historical and Nature Destination with Accessible Features
Explore the Isabel II Military Complex, located on the Mola peninsula at the entrance to the port of Mahón. The complex was ordered to be built by Queen Isabel II in the mid-19th century and is now a historical monument, known for being one of the largest fortresses in Europe. Additionally, the Mola peninsula has been declared a special protection area for birds, making it a unique destination for nature lovers. The complex offers incredible views over the port of Mahón and the Menorcan coastline as it is located at the easternmost point in the Spanish state.
For those with reduced mobility, the complex offers several recommended itineraries of varying lengths, as well as a wheelchair-accessible route that avoids stairs or challenging areas. Visitors can also take advantage of the "The Buggy Route," a special electric car tour designed for those with reduced mobility. The car can accommodate a wheelchair, making the tour effortless and enjoyable.
It is recommended to book the tour in advance due to high demand for the electric car option. Visit the Isabel II Military Complex for a historical and nature-filled adventure.
Contact to rent the Buggie route:

Telephone: (+34) 971364040 or (+34) 686659400
Email: info@fortalesalamola.com
Entrance:
Please note that tickets must be purchased in person at the entrance of the venue. There are several ticket rates available, but unfortunately, none of them cater to individuals with mobility issues or disabilities. 
Bathrooms: The enclosure has toilets but we do not know if they are accessible to people with reduced mobility.
Accessibility:  It can be reached in several ways:
Private car: From the roundabout of the port of Mahón following the M3, Carretera la Mola until its end (about 7 km)
Boat: From May to October, the water taxi company offers a personalized service (maximum 10 people) departing from the port of Mahón (it is not accessible for people with reduced mobility)
Taxi: Calling Radio Taxis at (+34) 971367111