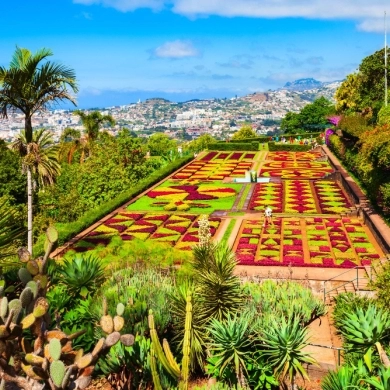 Madeira Botanical Garden
The Funchal Botanical Garden is one of the most impressive places in Madeira, renowned for its wide variety of plants and beautiful landscapes. It boasts nearly 2,500 species of exotic plants from all around the world and offers stunning views of the city of Funchal and the Atlantic Ocean.
As for accessibility for people with reduced mobility, some areas of the Botanical Garden are wheelchair accessible, but not all. Due to the sloping topography of the terrain, some parts of the garden may be difficult for people in wheelchairs to access. There are ramps and paved paths in certain areas, but there are also many gravel paths and steps. I advise you to contact the garden directly for more detailed and updated information on accessibility.
During your visit to the Botanical Garden, you can explore several different sections:
Local Crops Area: Here you will find a variety of plants native to Madeira and the nearby islands.
Cactus and Succulent Garden: This section houses an impressive variety of cacti and succulent plants from around the world.
Bird Garden: The Botanical Garden also features a small bird garden, where different species of exotic birds can be seen.
Aromatic and Medicinal Plants Garden: Here you will find a wide variety of plants used in traditional medicine and aromatherapy.
Viewpoint: From the garden's viewpoint, you can enjoy stunning views of the city of Funchal and the Atlantic Ocean.
In summary, the Funchal Botanical Garden offers a unique experience for nature and plant lovers. Although accessibility can be a challenge in some areas, it remains a worthy visit for those who can navigate the sloping terrain and gravel areas. I suggest you check the most recent information about accessibility and any possible restrictions before your visit.
Admission:
The entrance to the Funchal Botanical Garden costs around 6 euros for adults and 3 euros for children aged between 6 and 18 years. Children under 6 years can enter for free.
Bathrooms:
It does have public restrooms adapted for people in wheelchairs or with reduced mobility.
Accessibility:
The Funchal Botanical Garden is a bit away from the city center, but it can be reached by public transport. Bus companies Horarios do Funchal and Sociedade de Automóveis da Madeira (SAM) operate in the city and have routes that pass near the Botanical Garden.
Horarios do Funchal's line 29 operates between the city center and the Botanical Garden, so it might be a suitable option. However, it's important to note that while many buses in Funchal are adapted for wheelchair users, not all are, and accessibility can vary among different routes and buses.
Another option could be to hire an adapted taxi. Companies like Madeira Accessible Taxi offer transport services in vehicles adapted for wheelchairs.
Address and contact:
Funchal Botanical Garden (Jardim Botânico da Madeira) Caminho do Meio / Bom Sucesso
Funchal, Madeira, Portugal
Phone: (+351) 291 211 200
Website: www.sra.pt/jarbotanico/