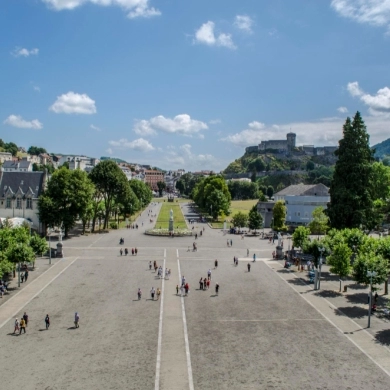 Candle shop
The Sanctuary of Lourdes is comprised of a collection of religious structures and places of worship, including 22 total, with notable basilicas such as the Immaculate Conception, Pius X, and Our Lady of the Rosary, as well as the iconic Grotto of the Apparitions. 
Spanning 52 hectares, the Sanctuary has been developed over time and the Grotto remains its central focal point. On February 11, 1858, the Virgin Mary appeared to Bernadette for the first time at this site. Pilgrims visit to touch the rock, drink from the fountain, and offer prayers. 
The Sanctuary of Our Lady of Lourdes is open all year and offers various ceremonies in multiple languages.
The so-called "pilgrimage" season runs from Easter to the end of October. During this period there are several outstanding events, such as the following:
The International Military Pilgrimage in May.
The pilgrimage of the Order of Malta in May.
The Pilgrimage of Bikers in June.
The Pilgrimage of the Assumptionists in August.
The Italian National Pilgrimage in September.
The Pilgrimages of the Rosary and of the Guardians (shepherds on horseback) in October.
To this we must add outstanding dates in Lourdes such as the anniversary of the first apparition every February 11. Inside the Sanctuary, the information center will allow you to better organize your stay in Lourdes.
Schedules of the celebrations or information of various kinds, do not hesitate to contact them to take full advantage of your pilgrimage or visit.
Toilets:
 In the enclosure you can find several accessible bathrooms and toilets for people with reduced mobility.
Address and contact: 

1 avenue Monseigneur Théas, 65108 Lourdes
Telephone: (+33) 562422008 or (+33) 562427878