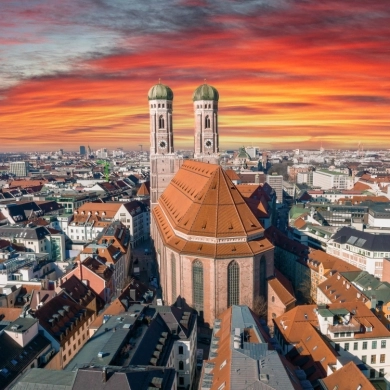 Frauenkirche
The Cathedral of Our Lady (Frauenkirche) is one of Munich's most iconic landmarks. With its distinctive twin towers rising above the city skyline, this Gothic cathedral is a significant landmark and a place of historical and architectural interest.
For wheelchair users, it is essential to know that the Frauenkirche is accessible. There is a side entrance on the south side of the cathedral that is equipped with a ramp for wheelchairs, allowing easy access to the interior of the building.
Once inside, you will find that the main nave is spacious and on one level, making it easy for wheelchair users to move around. Here, you can enjoy the impressive Gothic architecture, beautiful stained glass windows, and the various works of art and monuments that adorn the church.
An important point to note is that although access to the towers to enjoy panoramic views of the city is one of the main attractions of the Frauenkirche, unfortunately, this is not accessible to wheelchair users due to the need to climb a spiral staircase.
In addition to visiting the cathedral, you can also explore the surroundings. The Frauenkirche is located in the center of Munich, an area that is generally wheelchair accessible, with wide sidewalks and many street-level pedestrian crossings.
As always, I would recommend that you contact the Frauenkirche directly before your visit to get the most up-to-date information on accessibility and to make any necessary arrangements for your visit.
Admission:
The entrance to the Cathedral of Our Lady (Frauenkirche) in Munich costs around €7.5 for adults. Unfortunately, remember that access to the towers is not accessible to wheelchair users due to the stairs.
Its opening hours are Monday to Friday: 7:00am to 8:30pm, Saturdays: 7:00am to 8:00pm, Sundays and holidays: 12:30pm to 8:00pm.
Please note that these hours may vary, especially during holidays or special events. Additionally, the church may be closed to the public during religious services.
Restrooms:
We could not find information about their restrooms.
Accessibility:
The Cathedral of Our Lady (Frauenkirche) in Munich is located in a central location and is easily accessible by public transportation. Here are some options:
U-Bahn (Subway): You can take the U3 or U6 line and get off at "Marienplatz" station. This station is wheelchair accessible and has elevators. From the station, it is a short walk of about 5 minutes to the cathedral.
S-Bahn (Urban train): You can also take any S-Bahn line that goes to "Marienplatz" station. Like the U-Bahn station, the S-Bahn station is also wheelchair accessible and is a short walk from the cathedral.
Tram: Tram lines 19 and N19 stop at "Theatinerstraße" station, which is about a 5-minute walk from the cathedral.
Bus: Bus lines 52 and 62 stop at "Marienplatz (Rindermarkt)" station, which is near the cathedral.
Address and contact:
Frauenplatz 1, 80331 Munich, Germany
Phone: (+49) 89 2900820
Website: www.muenchner-dom.de