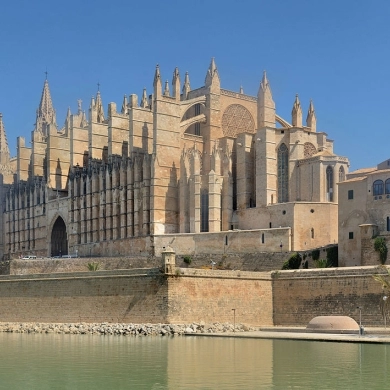 Catedral-Basílica de Santa María de Mallorca
The Cathedral of Palma, located in the Balearic Islands, is the largest and most important religious building in the region. It was constructed in the 13th century, starting in 1229, and was completed in the 1600s. The cathedral was built on the site of an old mosque called the Mosque of Medina Mayurca.
Featuring elements of Mediterranean Gothic architecture, the cathedral has undergone modifications over the centuries to incorporate contemporary cultural forms. In 1931, it was declared a Historic-Artistic Heritage site. The cathedral is notable for its 13-meter diameter rose window, the largest in the world in a Gothic cathedral, and its 44-meter high vault.
Entrance: 
For non-residents of the Balearic Islands, entrance to the cathedral is not free. There are several admission options, with the recommended option being the "No Queues" fee. For individuals with reduced mobility, there is a "Preferential" entrance at a more affordable rate, but a certificate of disability must be presented to qualify for this option.
The cathedral is open from June to September, from Monday to Friday, from 10:00 a.m. to 5:15 p.m., and on Saturdays from 10:00 a.m. to 2:15 p.m. (closed on Sundays).
From October to May, the cathedral is open from 10:00 a.m. to 3:15 p.m. and closed on Sundays.
Accessibility: 
If you arrive at the airport, you can take a taxi from the arrivals terminal to the center of Palma, which takes less than 30 minutes. Another option is to take the A1 bus from the airport to the city, with only one stop on the route. From there, you can take the number 25 bus at Plaça Reina and get off at the cathedral.
If you are already in the heart of Palma at Plaça Major, you can walk or roll seven minutes south on Carrer de Colom until the cathedral appears on the left corner. If you are coming from the Marina, the cathedral will be directly in front of you and the walk or roll takes less than 10 minutes.
Address and contact: 

Plaza de la Almoina S/N 07001 Palma de Mallorca 
Telephone: (+34) 971 71 31 33 
Email: secretaria@catedraldemallorca.org