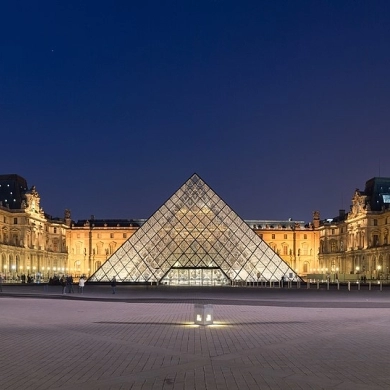 Louvre Museum
The Louvre museum , located in the former royal palace of the Louvre, is an accessible museum for people with reduced mobility and is the most visited art museum in the world with more than 9.5 million visitors a year on average, although in 2018 there were more than 10 million visitors who wanted to enjoy its treasures.
In 1793 it was opened to the public thanks to the transfer of the private collections of the monarchy, aristocracy and church, which was a benchmark and model for many other museums.
Currently in the Louvre some 380,000 pieces of art are exhibited, of which 7,000 are paintings and some 380,000 are objects and antiques.
The collections are distributed over five floors and three interlocking wings. The Louvre Museum contains more than 380,000 objects and exhibits 35,000 works of art in eight departments, and its collections are divided into: Egyptian, Etruscan and Roman, Near Eastern, Arts of Islam, Decorative Arts, sculpture, painting, and drawings and prints.
The best-known painting in the museum is the Gioconda by Leonardo Da Vinci, but we can highlight some others such as The Seated Scribe, Liberty Leading the People, or the Consecration of Napoleon.
The little Gallery:
This place within the museum is highly recommended for people with disabilities, whether they come alone or in a group, as it is a 100% accessible space for people with reduced mobility, but it also has various contents for people with mental or sensory disabilities.
It is a small exhibition room that serves as a prelude to the visit of the museum, in this room we can find works related to the museum's collections and of different techniques and periods, from antiquity to the 19th century and that room is expressly conceived for people with disabilities so accessibility is perfect.
Entry:
The museum has different rates depending on several factors, but access is free for people with some type of disability and also for a companion, to be able to access free they must present the corresponding receipt.
Reservation must be made through www.ticketlouvre.fr
The museum is open every day except Tuesdays and its hours are from 09:00 in the morning to 18:00 in the afternoon, except on Fridays when it closes at 21:45.
Closing days of the museum: January 1, May 1 and December 25. (And every Tuesday)
Accessibility:
Metro: Lines 1 and 7 Palais – Royal / Musée du Louvre station or line 14 at Pyramides station (Remember that only line 14 is accessible to people with reduced mobility.
Bus: Buses with numbers 21, 24, 27, 39, 48, 67, 68, 69, 72, 81, 85, 95 stop at the Louvre museum and all are accessible to people with reduced mobility.
Private car: The museum has spaces for people with reduced mobility, it is an underground car park and it is located at the height of the Carousel shopping gallery
Address: 1 Avenue du General-Lemonnier 75001 Paris

Parking hours: from 07:00 to 23:00
Parking phone: (+33) 0153452270
In addition to the physical accessibility, the Louvre also offers a variety of services for visitors with disabilities, such as audio guides in several languages, tactile models of some of the sculptures, and guided tours adapted for people with visual or auditory impairments. 
They also offer a companion service for visitors with disabilities who need assistance while visiting the museum. The museum also has an app that provides information on the accessibility of the different areas of the museum and the works of art on display. 
Overall, the Louvre has made significant efforts to make the museum accessible to all visitors.
Address and contact: 

Rue de Rivoli, 75001 Paris
Telephone: (+33) 0140205317 or  (+33) 0140205990
Email: info@louvre.fr or  handicap@louvre.fr