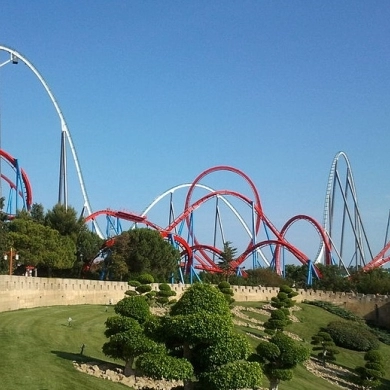 Port Aventura
Port Aventura is one of the top destinations in Salou, located just 6 km away. It is one of the largest and most popular amusement parks in Spain, and it offers a variety of adapted activities for people with disabilities. In addition, there are no architectural barriers within the park, so you can move around freely.
Important information for people with disabilities or reduced mobility:
Admission / Entrance:
For people with reduced mobility or some type of disability there are reduced prices, and it is important to know that these tickets cannot be purchased online, they can only be purchased at the park access ticket offices.
The ticket offices for these tickets are located just after the general ticket offices, next to the access to Caribe Aquatic Park.
It is necessary to present the official accreditation as having a disability.
The companions of people with any type of disability must pay the full ticket, there is no discount.
The minimum percentage of disability to be able to access reduced tickets is 33%
For people with a disability of 75% or more, admission is 100% free, for others, the price is reduced, but not free.
With the special ticket, you are provided with a wristband that you have to pick up at the visitor service office, the same if you are staying at one of its hotels, you must go to the service office to pick up the bracelet.
The maximum number of companions of a person with a disability is 4 and at least 1 of them must be of legal age and in full power to take charge. All companions must pay the normal ticket.
Regarding hotels, Port Aventura has several hotels with rooms 100% accessible to people with reduced mobility. We invite you to contact the park directly to find out the characteristics in each case.
 Accessibility:
The amusement park has a special parking area for people with disabilities and is located in the area closest to the access to the park.
Parking is not free for people with disabilities.
In the shows and attractions, people with disabilities may access through a special access and may be accompanied by a person of legal age and responsible. Once at the show you will have your seats in a place reserved for people with disabilities.
In the attractions, it will be the park staff who will decide if the person can access the attraction or not.