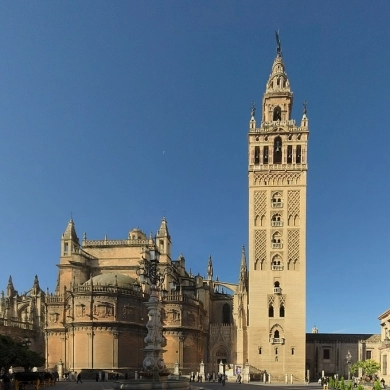 Catedral de Sevilla
Location: Avda. de la Constitución s/n. The Cathedral of Seville is the third largest temple in the Catholic world after St. Peter's Basilica in Rome and St. Paul's in London. It was built in the 15th century over an old Islamic mosque of which the Patio de los Naranjos and its minaret are preserved: LA GIRALDA. 
The cathedral has 10 doors, the main one being the Puerta de la Asunción, and the oldest is the Puerta del Perdón, the only one that remains from the old Almohad mosque. The Puerta del Príncipe, located in the beautiful Plaza del Triunfo, is one of the most frequented by visitors.
The Cabildo of the Cathedral's main objective is to provide its visitors with as many accessibility resources, support services and useful information as possible, in order to facilitate access and the appropriate transmission of its sacred heritage.
● Free admission to the cultural visit for the disabled with a degree of disability over 65%.
● Toilets located in the "Permanent Exhibition" area and in the Patio de los Naranjos.
The temple has a very rich and varied artistic heritage and within its walls can be seen some masterpieces of the history of painting: 
Main Altarpiece: One of the most remarkable points of the cathedral is the main altarpiece, since it is the largest that exists in Christendom. This work of art made of polychrome wood has 400 square meters of surface along which there are more than 200 figures of different saints.
Tomb of Christopher Columbus: This magnificent monument is one of the points on which the eyes of the visitors are focused. The tomb is supported by four allegorical figures representing the four kingdoms that Spain had at that time.
A walk through the clouds: It is possible to literally walk on the roof of the Cathedral. The tour through the roofs offers a unique panoramic view of the city from a very special point of view.
Patio de los Naranjos: A direct legacy of its past as a mosque, the Patio de los Naranjos is a haven of peace full of light and color, ideal for relaxing in the shade of the trees while observing the temple from the outside.
Giralda: The bell tower of the Cathedral is one of the most attractive points for visitors, as it offers excellent views of both the temple from above and the rest of the city.