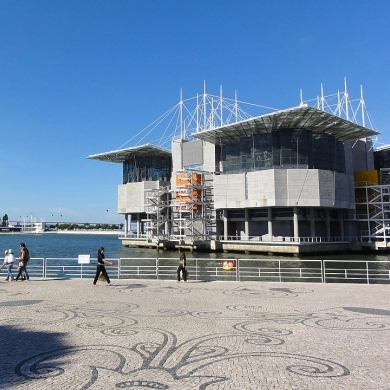 Oceanário de Lisboa
The Lisbon Oceanarium is one of the largest in the world and is fully accessible for individuals with reduced mobility or who use wheelchairs. The trained staff is always ready to assist anyone in need.
The oceanarium is home to 15,000 animals and plants from 500 different species. Visitors can enjoy a permanent exhibition as well as temporary exhibitions, making it a great family outing when in Lisbon.
The main highlight of the permanent exhibition is the large central pool featuring ocean species such as sharks, tuna, and others. The four smaller pools each simulate a different ocean habitat: the Atlantic, Pacific, Indian, and Antarctic Oceans.
The aquarium features a variety of marine life, including but not limited to: sharks, moray eels, rays, trumpet fish, unicorn fish, tuna, seahorses, and many others. The vast array of fish attracts millions of visitors each year, making the Lisbon Oceanarium one of the top tourist destinations in Portugal.
Fun facts:
The aquarium tanks hold approximately 7 million liters of water.
The corals in the Indian Ocean pool are artificial.
Entrance:
Admission prices vary based on the age of the visitors. However, if you have the LISBOA CARD, you can enjoy a discount when purchasing your ticket.
The Oceanarium is open daily from 10:00 a.m. to 8:00 p.m., with the last entry at 7:00 p.m
The following holidays have different schedules:
December 24 from 10 a.m. to 7 p.m., last admission at 6 p.m.
December 25 from 11 a.m. to 8 p.m., last admission at 7 p.m.
December 31 from 10 a.m. to 7 p.m., last admission at 6 p.m.
January 1 from 11 a.m. to 8 p.m., last admission at 7 p.m.
Toilets:
The enclosure has bathrooms 100% adapted for people with reduced mobility. The width of the bathroom door is greater than 78 cm, and it has support bars, one fixed and one folding.
Accessibility:
There are several public transportation options to reach the oceanarium. The quickest way is to take the metro and get off at Oriente station (which is accessible for individuals in wheelchairs) and then walk 650 meters to the oceanarium.
Many urban buses also arrive at Oriente station, as it is one of the major hubs in the city.
For those who are driving, the oceanarium has its own parking lot with over 200 spaces, some of which are designated for individuals with reduced mobility.
Address and contact:

Esplanada D. Carlos I, 1900-005 Parque Das Nações, Lisboa 
Telephone:(+351) 218 ​​917 000
Email: info@oceanario.pt