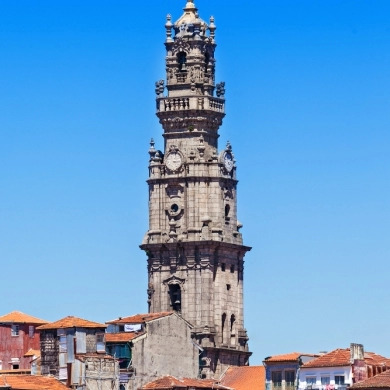 Clérigos Tower
This magnificent Baroque tower was created by Nicolau Nasoni, an Italian architect who carried out several projects in the Portuguese city and is considered a symbol of the city. It was built in the mid-18th century and was officially opened in 1750.
The interior of the nave is made of granite and marble, adorned with intricate Baroque carvings showcasing the architect's remarkable skills. The main chapel boasts a stunning polychrome altarpiece by Manuel Porto.
The tower is the most impressive aspect of this monument. It is built from granite and stands 75 meters tall, offering panoramic views of the entire city. As a fun fact, in 1917, two Spanish acrobats climbed the tower.
It's worth mentioning that the tower, the monastery, and the museum that make up the complex are fully accessible for people with mobility difficulties or disabilities, with the exception of reaching the top of the tower. Climbing 225 steps is required to reach the summit, but in 2015, a room on the 4th floor was inaugurated. The room features screens that allow visitors to experience the same views and sensations as if they were standing at the top of the tower.
Entrance:
There are several rates depending on the visiting hours, the normal ticket costs about €10 and for children and retired people the price is somewhat lower.
It is open every day from 10:00 a.m. to 19:00 p.m. and they can organize guided tours and also night tours.
It is only closed on December 24, 25 and 31, and January 1.
Toilets:
There are toilets in the souvenir shop in the tower, but they are not adapted.
Accessibility:
Train: São Bento train station is a few meters away from the Tower.
Subway: Aliados station, line D, and is accessible.
Tram (Carmo, line 22)
Bus: lines 6, 20, 35, 37, 52 and 78 stop nearby and are accessible.
Address and contact:
Rua de Sao Filipe de Nery 4050-546 Porto
Telephone: (+351) 220145489
Email: info@torredosclerigos.pt