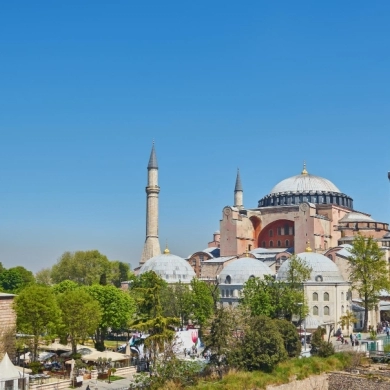 Hagia Sophia
The Basilica of Hagia Sophia is a historical and architectural monument in Istanbul, which was originally built as a Christian church in the 6th century. It later became a mosque during the Ottoman period and in 1935 it was converted into a museum. However, since 2020 it has been a mosque again. It is one of the most popular tourist attractions in Istanbul, and is known for its massive dome and its decorative mosaics and frescoes.
Hagia Sophia is accessible for people with disabilities and has an entrance adapted for wheelchairs. There is a platform lift available to access the main floor and some of the museum areas. However, it is important to note that the upper part is not accessible for wheelchairs due to the stairs and the topography of the place. Although not all areas of the museum are wheelchair accessible, there are enough accessible areas and resources available so that people with disabilities can fully enjoy their visit.
Inside the Hagia Sophia, visitors can admire the impressive architecture and rich historical heritage of the building. The structure is a unique blend of architectural styles, with Byzantine, Ottoman, and Neoclassical elements. Additionally, visitors can learn more about the history and cultural significance of the Hagia Sophia through the exhibits and information panels available in the museum. There is also a gift shop and cafe where visitors can relax and have something to eat or drink during their visit.
Overall, the Hagia Sophia is a must-visit for anyone
https://www.hagia-sophia-tickets.com/es/
Entrance: 
The entrance fee to Hagia Sophia is around €15 for adults, students are around €8. Children under 2 years old can enter for free. It is important to note that these rates may change and it is advisable to check them on the official website. 
Its hours are: Tuesday to Sunday from 09:00 in the morning to 17:00 in the afternoon (from October 1 to April 15) and from 09:00 to 19:00 (from April 16 to September 30 ) On Mondays it is closed. 
Bathrooms: 
There are accessible bathrooms for both sexes. 
Accessibility: 
The best way to get to Hagia Sophia is with the Metro line 2 and get off at the Sultanahmet stop, this stop is accessible for people with mobility problems. 
Once you get out of the metro, it is a 4-minute walk to Hagia Sophia. You can also take a taxi that will drop you off in front of Hagia Sophia. 
Address and contact: 
Sultan Ahmet, Ayasofya Meydanı No:1, 34122 Fatih/ Istanbul, Turkey. 
Telephone: (+90) 212 5221750, (+90) 212 5220989, or (+90) 212 5284500 
Email: ayasofyamuzesi@hotmail.com 
It is important to note that, as the situation of Hagia Sophia is subject to change, we recommend you to check the official website for more information about the opening hours, ticket prices and accessibility.