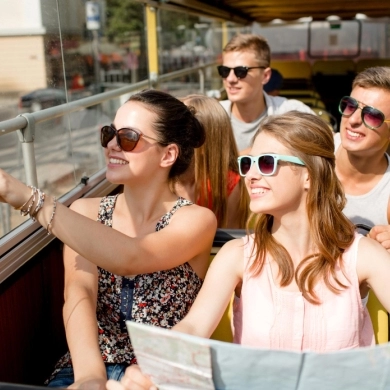 San Sebastián City Tour
It is a great idea to explore the city with the tourist bus, as it provides a comprehensive and convenient tour of the city's most important landmarks and attractions. The accessible facilities for people with reduced mobility and the audio guide service in multiple languages make it an ideal option for all visitors.
Also, the option to get on and off the bus at different stops provides the flexibility to explore the city at your own pace, and the panoramic windows offer excellent views of the surroundings.
And it's great to know that guide dogs are also welcome on the bus, making it a comfortable and accessible option for everyone.
Entrance:
The standard admission fee is set at €12 for adults and €6 for children aged 5 to 12. Tickets can be bought through the website, at the tourist office located on Boulevard 8, and on the bus itself. During peak season, tickets can also be purchased at sales points located at the start of the routes (Reina Regente and Paseo de Salamanca). Please be sure to bring a printed copy of your voucher for presentation at the time of entry.
Unfortunately, there are no reductions for individuals with mobility issues.
Toilets:
The bus does not have restrooms.
Address and contact:
Julia Travel S.L República Argentina, 1 (in front of the Victoria Eugenia Theater) San Sebastián.
Telephone: (+34) 629650376
Email: customers-easy@city-tour.com
Web: https://sansebastian.city-tour.com/