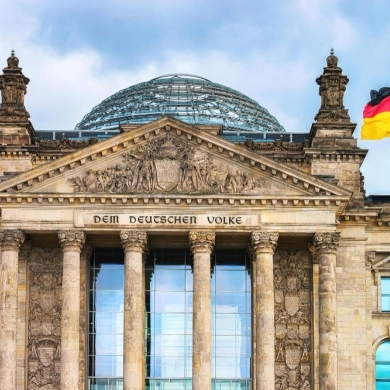 Reichstag Building
The Reichstag is the German parliament, located in the Tiergarten neighborhood in the Mitte district. This historic building was designed by Paul Wallot and built from 1884 to 1894. In 1918, the Republic was proclaimed here, and in 1933, a fire broke out, causing it to be abandoned during World War II until 1961, when it was renovated.
Throughout the Cold War period and until German reunification in 1989, the Reichstag was used for exhibitions on German history, and in 1991, two years after the fall of the Berlin Wall, it was decided that the Reichstag would once again house the German national parliament. In 1995, the last restoration, led by Norman Foster, began and was completed in 1999.
All the entrances to the Reichstag are accessible, but the most convenient is the ramp on Platz der Republik, and once inside, you can visit the premises without any restrictions. There are two fully accessible elevators.
It is a historical building with the appearance of a classic temple, and the highlight of this attraction is its glass dome, which you can visit. If you are using a wheelchair, you can visit the dome without having to wait in line, as there is a separate entrance with priority access.
It is important to know that to get to the dome you have to climb a spiral slope, so we advise you to be accompanied if you have a manual chair. Once in the dome you will find several banks and also a cafeteria, which is also accessible.
Entrance:
Admission is completely free for everyone, on weekends it is usually very crowded, so we recommend that you visit it during the week if possible.
Any way, you must book in advance, here is the link so you can register:  https://visite.bundestag.de/BAPWeb/pages/createBookingRequest/viewBasicInformation.jsf?lang=en
The dome hours are from 08:00 to 24:00, every day and the last entrance is at 21:45.
The rooftop and dome are closed all day on December 24, and on December 31 from 4:00 PM.
Bathrooms:
The building has several bathrooms and 2 of them are adapted, one on the ground floor and the other in the cafeteria. The door is more than 80 cm wide and the WC has grab bars.
Accessibility:
To get to the Reichstag you can get there by train, since the central station of Berlin is a few meters from the entrance.
You also have the bus number 100 or the M41, both will leave you at the gate of the venue.
Another option is the metro, the Bundestag stop is a few meters from the entrance.
Address and contact:
Platz der Republik 1. 11011 Berlin
Telephone: (+49) 3022732152
Email: besucherdienst@bundestag.de